Fergus wrote:
Ah, the Marchon plant! I can still remember the smell! And thank you for your paean of praise for my hometown, Andy. It is still beautiful, and definitely under-appreciated. Readers of another thread may (or may not) be interested to know that my dad worked at the Marchon plant, and it was from there that he was made redundant, necessitating a "length-of-the-country" type move when I was about 5. Of course, there is a strong Birmingham link there, as the plant was owned by Albright & Wilson, whose offices used to be at the Warley Bowl until pretty recently.

Last time I was in the area, St Bee's Head was swarming (pun only partly intended!) with holidaymakers, though Ravenglass was all but deserted.
Whitehaven is - we can agree on this Fergus - a wonderful town and probably the most under-appreciated place in Britain. Which gives me an excuse to post this, which will puzzle people like Guy and Derog, but which I find genuinely moving: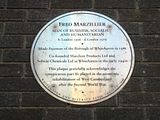 (Whitehaven Civic Hall)
If you can't read it, it's to Fred Marzillier (1906-1979) "Man of Business, Socialist and Humanitarian".
What a pity your politics were not influenced by him and Schon. We must live in hope. When I was taking this pic an elderly man came up and talked to me about working at the Marchon. He'd been in 'the deeps' as he called it, the muckiest place in the works, but still remembered them and the firm with happiness.